Women of March: Aquamarine Birthstone
With a new month comes a new birthstone. March welcomes Aquamarine which translates from latin to 'water of the sea' and we can see why with its glistening and mystical appearance. It comes perfectly in time for the 2021 spring season when pastels are back in trend ready to shine on those brighter days that we have all been long awaiting for. There is just so much to love about this crystal clear gem.  
---
There really is something mystical about aquamarine gemstones. They are oh so eye catching as they gleam with their water like reflections when they catch in the sunlight. It was referred to by the Romans as the 'Sailors Gem', as it was believed to protect them from dangers on their travels across the sea. It has also been said that aquamarine gemstones were fallen valuables from treasure chests belonging to our favourite ladies under the sea, mermaids.
In Greek mythology, Aquamarine is considered to be the sacred jewel of the god of fresh water Neptune, giving him powers to claim stormy waters and perhaps turbulent times as it is widely believed to promote inner calmness and peace, so if you are feeling a little stressed right now this might just be the perfect gem for you.
---
Micro Statement Aquamarine Earrings in 925 Sterling Silver
Aquamarine Pisces Aquamarine Zodiac Charm in 9ct gold
Modern Pearl, Aquamarine & Topaz Mismatched Earrings
PERFECTLY PAIRED WITH PEARLS

Name a more iconic duo... we dare you! Aquamarine quite literally translates to "water of the sea" with it's ocean blue tones. Pearls just so happen to be found in the deep blue hidden within oysters, so there really isn't a better combination right? A perfect gift for Pisces ladies, those born in march, as well as an elegant and classic way to add those spring time pastel blues to your everyday style.
This Modern Pearl and Aquamarine 925 sterling silver ring is a must have addition to your jewellery collection. Add a hint of blue sparkle to your everyday style.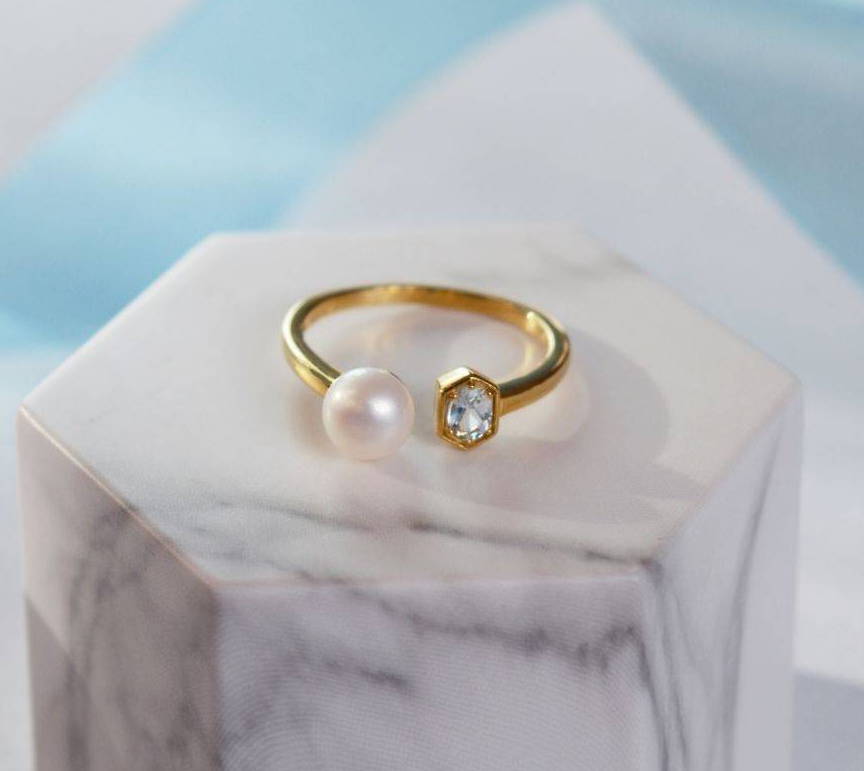 Modern Pearl, Aquamarine & Topaz Mismatched Drop Earrings
Modern Pearl, Aquamarine & Topaz Open Ring
Modern Baroque Pearl & Aquamarine Drop Earrings
---